The Amateur Radio Parity Act of 2015
HR 1301 US House of Representatives and S 1685 US Senate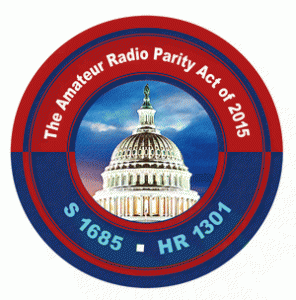 Support the Amateur Radio Parity Act of 2015
Now that the Bill has been voted out of the Commerce Committee, it may move to the full senate for debate and a vote. Every licensed amateur radio operator is encouraged to contact our Senators and request they support the bill when it comes to the floor of the Senate for a vote.
Use the following links to contact our Senators.
You can copy and paste the following in your message to the Senators in your message.
"I'm a constituent and an amateur radio operator. I am calling upon you to urge you to support S. 1685,  The Amateur Radio Parity Act, when it comes up for a vote before the Senate. Thank you."
The Amateur Radio Parity Act of 2015 — H.R.1301 in the US House of Representative and S 1685 in the US Senate —  would direct the FCC to extend its rules relating to reasonable accommodation of Amateur Service communications to private land use restrictions. US Rep Adam Kinzinger (R-IL) introduced HR 1301 on March 4 with 12 original cosponsors from both sides of the aisle — seven Republicans and five Democrats in the US House.  US Senator Roger Wicker (R-MS) introduced S 1685 on June 25, with Senator Richard Blumenthal (D-CT) as the original cosponsor, into the US Senate.
The Amateur Radio Parity Act would require the FCC to amend its Part 97 Amateur Service rules to apply the three-part test of the PRB-1 federal pre-emption policy to include homeowners association regulations and deed restrictions, often referred to as "covenants, conditions, and restrictions" (CC&Rs). At present, PRB-1 only applies to state and local zoning laws and ordinances. The FCC has been reluctant to extend the same legal protections to include private land-use agreements without direction from Congress.
Read the ARRL information regarding the Parity Act and what you, as an Amateur Radio Operator can do.
Fact From Fiction is a video that will better explain the fact from fiction regarding the Act..